Les Black Lips, originaires d'Atlanta, sont de retour avec un septième album, "Underneath the Rainbow", produit par Patrick Carney, batteur d'un groupe avec lequel l'amalgame est fréquent, les Black Keys. Si ça peut carrément foutre le bordel dans l'esprit des moins avertis, les deux formations n'ont pourtant clairement rien à voir. Les Black Lips sont authentiques et spontanés, primaires, dégoulinants de fluides en tout genre, et leur musique est à leur image. Sans prétention aucune d'un message à délivrer, ils se tiennent pourtant debout tel un étendard de la résistance à la musique pré-mâchée et insipide vendue aux sourds et aux ignorants. Nous sommes en temps de guerre, la guerre du vrai, du spirituel et de la liberté contre la malbouffe musicale que, tel un cheese burger de chez McDo, on veut vous faire avaler, et les Black Lips sont inconsciemment des soldats anarchistes, nihilistes sur les bords, armés de sons crades jusqu'aux dents et prêts à vous faire gicler.
L'album sorti (depuis le 17 mars), nous avons interviewé Cole, guitariste et chanteur au sein du groupe garage le plus reconnu du moment.
//The Black Lips, from Atlanta, are back with a seventh album, "Underneath the Rainbow", produced by Patrick Carney, drummer of a band with which the amalgam is frequent, the Black Keys. If that can create a blunty mess in the less informed minds, both bands have clearly not much in common. The Black Lips are genuine and spontaneous, primary, dripping fluids of all kinds, and their music is the reflection of who they are. Without any pretension to delivering a message, they stand still such a banner of resistance to the pre- chewed and insipid music, sold to the deaf and the ignorant. We are living in wartime, the war of truth, spiritual and freedom against musical junk food, as a McDonald's cheese burger, they want you to swallow , and the Black Lips are unconsciously anarchistic soldiers, nihilistic around the edges, armed of dirty sounds to the teeth and ready to make you squirt.
The album now released (since March 17) , we interviewed Cole, guitarist and singer of the most recognized garage band at the moment.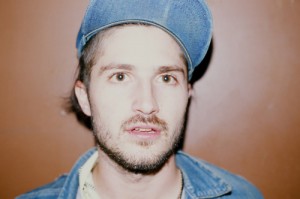 LVP: Patrick Carney a produit votre dernier album. Qu'est-ce qui vous a amenés à travailler avec lui?
//Patrick Carney produced your last album. What led you to work with him?
Cole: Nous l'avons rencontré au Mexique et avons passé du temps avec lui, il nous a dit qu'il était un grand fan et nous a suggérés de travailler avec lui, nous étions heureux d'unir nos forces.
//We met and hung out with him in Mexico he said he was a fan and suggested it, we were happy to join forces.
LVP: A quoi vouliez-vous que l'album ressemble? Est-ce que certains artistes vous ont inspirés, ou des événements particuliers? Avez- vous composé comme vous l'avez toujours fait?
//How did you imagine the album? Did some artists or distinctive events inspire you? Have you composed as you've always done?
Cole: Nous avons plus ou moins composé comme d'habitude. J'ai été inspiré par Luc Ferrari dans l'ajout de sons atmosphériques comme des bruits de réveil, des grillons ou des sonneries de téléphone cellulaire, mais ces influences n'apparaissent sur l'album que de manière subtile.
//We more or less composed as we have always done.i was inspired by luc Ferrari to had atmospheric sounds like alarm clocks and crickets and cell phone vibrations,but these influences appear in the record very subtle.
LVP: Combien de temps avez-vous mis pour écrire et enregistrer le disque?
// How long did it take you to write and record the album?
Cole: Trop longtemps, quelques années.
// Too long,like a few years.
LVP: Comment procédez-vous en studio? Même sur cd, ça sonne très spontané.
//How do you proceed in studio? Even on cd, your music sounds very spontaneous.
Cole: Nous avons fait plusieurs prises d'une même chanson et avons gardé la meilleure.
//We recorded the songs a couple times each and took the best take
LVP: Qui écrit les paroles?
// Who writes lyrics?
Cole: Tous.
// We all write lyrics.
LVP: Étais-tu stressé à la sortie de l'album?
// Did the album release put you under stress?
Cole: Pas vraiment. J'aimerais en vendre beaucoup, mais ce n'est pas si stressant.
// Not really, I would like to sell a lot of records but it's not that stressful.
LVP: Pourquoi l'avoir appelé "Underneath the Rainbow"?
// Why did you call it "Underneath the Rainbow"?
Cole: Parce que nous étions désespérés de ne pas avoir de titre.
// Out of desperation of not having a title.
LVP: Pour toi, quelle est la chanson la plus personnelle de l'album?
//For you, what's the more personal song of the LP?
Cole: Dog Years, parce qu'elle réunit les Black Lips et notre ami Bradford Cox de Deerhunter (ndlr: Cole et Bradford jouaient déjà "Dog Years" en 2008 sous le nom de "Ghetto Cross").
// Dog years, because it brought together black lips with our buddy Bradford cox from Deerhunter.
LVP: J'ai lu que vous vouliez diffuser des senteurs pendant vos concerts. Vraiment?
//I've read that you wanted to diffuse scents during your shows. Really?
Cole: Oui, nous l'avons fait lors de notre dernière tournée sur la côte ouest. Çà stimule la mémoire.
// Yes, we did it on our last west coast tour. It activates your memory.
LVP: Votre premier album est sorti en 2003. Aujourd'hui, comment définirais-tu les Black Lips? Est-ce que quelque chose a changé?
// Your first album was released in 2003. Today, how would you define The Black Lips? Did something change?
Cole: Nous sommes les mêmes. Nous tâtons différents sons au fur et à mesure que nous avançons, mais nous sommes les mêmes.
// We are much the same,we dabble in different sounds as we go along but we are much the same.
"Fad" (2003)
LVP: Quel est ton meilleur souvenir, l'événement le plus fort que tu aies vécu depuis les débuts du groupe (1999)?
// What's your best memory, the strongest event you lived since 1999, year of the beginning?
Cole: J'ai adoré jouer sur le plateau de l'émission américaine Conan O'Brien, qui passe toujours tard dans la nuit.
// I liked performing on late night television on the American show Conan Obrien.
LVP: Vos concerts sont toujours un gros bordel. Quand tout le monde devient hors de contrôle, un accident peut arriver. Quel est ton pire souvenir?
//Your gigs are often a big bloody mess. When the show goes out of control, accidents can easily occur. Do you remember something bad?
Cole: Une fois, en Belgique, Ian s'est ouvert en se coupant dans l'excitation du moment, on l'a emmené à l'hôpital car il saignait beaucoup, j'ai aimé le fait qu'il soit si passionné, mais en même temps, j'étais aussi inquiet.
//One time in Belgium Ian cut himself open in the eat of the moment, he was rushed to the hospital cause he was bleeding so much. I like that he had the passion, but was also worried
LVP: Je sais que tu aimes GG allin, comme lui, n'as-tu réellement aucune limite? Il est très extrême, aimerais-tu vraiment aller aussi loin que lui?
// I know you like GG Allin, like him, have you really no limits? He's very hardcore, would you like to go as far as him?
Cole: Je ne peux pas aller aussi loin que GG Allin, mais je voudrais avoir le même feu ardent qui m'anime. Je demande aux gens si un concert des Black Lips peut atteindre 40% d'un concert moyen de GG allin, et si un soir, ça a été le cas, alors c'est que c'était une bonne soirée.
//I cannot go as far as GG I wish I had the blazing fire with in.i tell people if a black lips show can go 40% of an average GG show, then it has been a great night
Trash interview :
La dernière fois que tu as été bourré
// The last time you get smashed
La nuit dernière.
// Last night.
La dernière fois que tu as pris de la drogue
// The last time you took drugs
La nuit dernière
// Last night
La dernière fois que tu as fait l'amour
// Your last shagging
La nuit dernière
// Last night
La dernière fois que tu as insulté quequ'un
// The last time you insulted somebody
La nuit dernière
// Last night
La dernière fois que tu t'es retrouvé avec du sang sur toi
// The last time you found yourself with blood over you (yours or not)
La nuit dernière
// Last night
La dernière fois que tu as embrassé un membre de ton groupe
// The last time you kissed a member of your band
La nuit dernière
// Last night
La dernière fois que tu t'es mis nu sur scène
// The last time you stripped naked on stage
Il y a quelques semaines
// a couple weeks ago