With only two tracks under their belt, the quirky little Brooklyn band formed in 2018 is already making a big splash. Combining exuberance and self-mockery on rhythms that stick to the skin, Gustaf floods us with an uninhibited energy embodied by the singer Lydia Gammill, whose spirited interpretation is directly in line with her elders of the 80s art punk (Kleenex, The Slits…). You will have understood it, Gustaf is a breath of air with therapeutic virtues you will need at the moment. While a first album should soon be released by the Canadian label Royal Mountain Records, the quintet gave us a moment to come back on the origins of the project and to reveal its philosophy. Interview.
---
La Vague Parallèle: Hi, how are you?

Gustaf: Great!
LVP: Could you introduce yourselves in a few words?
Tarra Thiessen: Hi! I play percussion and sing through a pitch shifting voice pedal that makes me sound like god and/or the devil!

Vram Kherlopian: I play guitar and provide backing vocals.

Melissa Lucciola: I play drums!

Lydia Gammill: I sing and run around!

Tine Hill: And I play bass.
LVP: Let's go back to the origins of the project for a moment. How was Gustaf born? 
Lydia: Back in 2018, Tarra needed to get her van down to SXSW for a tour she and Tine were scheduled to start after the festival with their old band Ex-Girlfriends. She asked me if I wanted to help her drive down and I agreed but asked if I could play some shows on our way down. I didn't actually have a band so we recruited Tine and Angela (our first drummer) from Ex-Girlfriends plus Vram on guitar and the whole thing grew from there. Mel joined us a year later and now we're a big happy family!
LVP: Where does the name of the band come from?
Lydia: Since the band came together so quickly, we needed a name before we actually knew what the project would become. I wanted something that was less than five syllables, looked good on a t-shirt, and was somewhat ambiguous. I got the name off a poster my Dad gave me when I moved into my first apartment. It's from a 1972 exhibit on king Gustaf III at the Nationalmuseum of Stockholm. I haven't been able to find another picture of it on the internet.
LVP: You are presented as a wacky art punk band, do you agree with that?
Vram: Yes, I think that generally gets the point across.
LVP: Who are your favorite artists?
Tarra: In music I would say Cher, Jack White, Ty Segall and John Dwyer. David Lynch for the cinema. And I love the painters Francis Bacon and Max Ernst.

Lydia: Cate Le Bon, Jonathan Richman, Al Green, Patsy Cline, Sun Ra, Dionne Warwick, Roy Orbison and Jorge Ben Jor.

Mel: Neil Young, Marissa Paternoster, Juana Molina, Jessica Pratt and Kenny Buttrey.

Vram: The Beatles, Broadcast, Raymond Scott, Radiohead and Chopin!
LVP: What inspires you in life?
Tarra: My bandmates and friends, long car rides, national parks, the ocean, hanging out at 24 hour diners and drinking coffee late at night, Duncan Trussell Family Hour and Night Vale podcasts.

Lydia: Long walks on empty streets, the end of Soylent Green by Richard Fleischer, New York City garbage, feelings that are never succinctly expressed no matter how hard you try.

Mel: Nature mostly, and as Lydia said, those feelings that can only be expressed without words.

Vram: People, nature, and delicious food.

Tine: You have one life so do things that give your soul excitement!
LVP: There's something eccentric and comical in your tracks. What do you want to convey to your public?
Tarra: Joy, playfulness, and present moment awareness.

Mel: Yes, I agree with what Tarra said. I think the joy and playfulness encourage everyone to not take themselves or us too seriously, and then everyone is able to relax and have fun.

Lydia: Yeah, it's about learning to laugh at your flaws and the emotional loops humans get trapped in. Skewering glorified mania through catharsis.

Vram: That we might as well enjoy life while we're here!

Tine: As a band we have been in tight spaces enough together where we have our own Gustaf jargon. Nothing is ever perfect, but we can really see a lot of comic relief in all of the situations we have been through together. We are one big funny family and we always welcome anyone who wants to join!
LVP: You've only released two tracks so far but you've already attracted quite a lot of attention. How do you explain this notoriety?
Tarra: Lydia is a master manifester! We've also all been in different bands for the past decade, so even though this band is relatively new, we all are super lucky to have really supportive communities in Brooklyn, Los Angeles, and around the US from touring so much.

Vram: I think people enjoy the songs, which is great!

Tine: Never say "no" to a show offering. I have always worked in restaurants and I was the schedule tetris queen at switching my shifts to play shows. I once had to pay my co worker $80 to cover me one Saturday night!

LVP: You signed with Royal Mountain Records and worked with Chris Coady (Yeah Yeah Yeahs, Beach House, Future islands…) for your first tracks, how did these collaborations come about? 
Mel: We spent the month of February 2020 living together in Los Angeles. During that time we played a ton of shows and played pretty much every day together. It was so fun! One of our friends, John, also happened to be hanging in Los Angeles and he met Menno Versteeg, founder of Royal Mountain. He invited him to one of our shows and the rest is history there. The label set up the session with Chris Coady for us and that was crazy fun.
LVP: It is said that you have an album in preparation, can you tell us more about it?
Lydia: It's almost done! We recorded the bulk of it in New York this fall with Carlos Hernandez of Ava Luna. The sound is a bit of the old and a bit of the new. I hope our fans like it! Either way, on to the next one!
LVP: How is life in New York during this period of health crisis? Does this situation inspire you?
Tarra: Personally, I'm happy to have had this year off from touring to work on writing and recording, but it's difficult to stay motivated when there doesn't seem to be an end in sight. It's also been really difficult seeing so many small businesses, especially music venues struggle.

Mel: I'm also happy to have had time off cause ironically in some ways I've had a lot more time to play music instead of driving around on tour, loading gear and booking etc. But, I wouldn't call it inspiring. At first it was really strange and different to see the whole world change and that was interesting to see from an artist's perspective, but it definitely got old and now I just can't wait to see people again and share time and music together without thinking about a virus!
Vram: Same for me. The situation does not necessarily inspire me, but it has provided more time to work on music.
LVP: One last, more personal question, what do you like to do outside of music?
Tarra: Transcendental meditation, writing postcards, going on long walks, making art with metallic gel pens and purple watercolors!

Mel: Hike, camp, grow veggies, paint, travel and explore, sit in the sunshine, learn about herbalism and holistic medicine, try to learn spanish.

Lydia: I've become obsessed with trying to use up everything in my house before replacing it. I've made new candles from leftover wax and have plans to turn my old bills into new paper. I also enjoy drawing and buying groceries after midnight.

Vram: Travel to new places, drink espresso and play chess.

Tine: Before Covid hit I ran competitively and I am excited to run my first half marathon after all this has subsided! I hike, ski, play with my dog and dream about opening a bar/cafe someday.
LVP: A little selfie of you to finish?
Lydia: We are apart right now but Tine used her magic and digitally reunited us for this photo! Stay safe out there friends!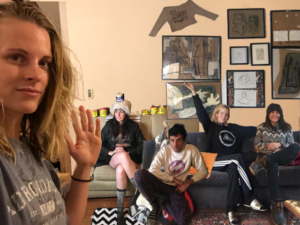 ---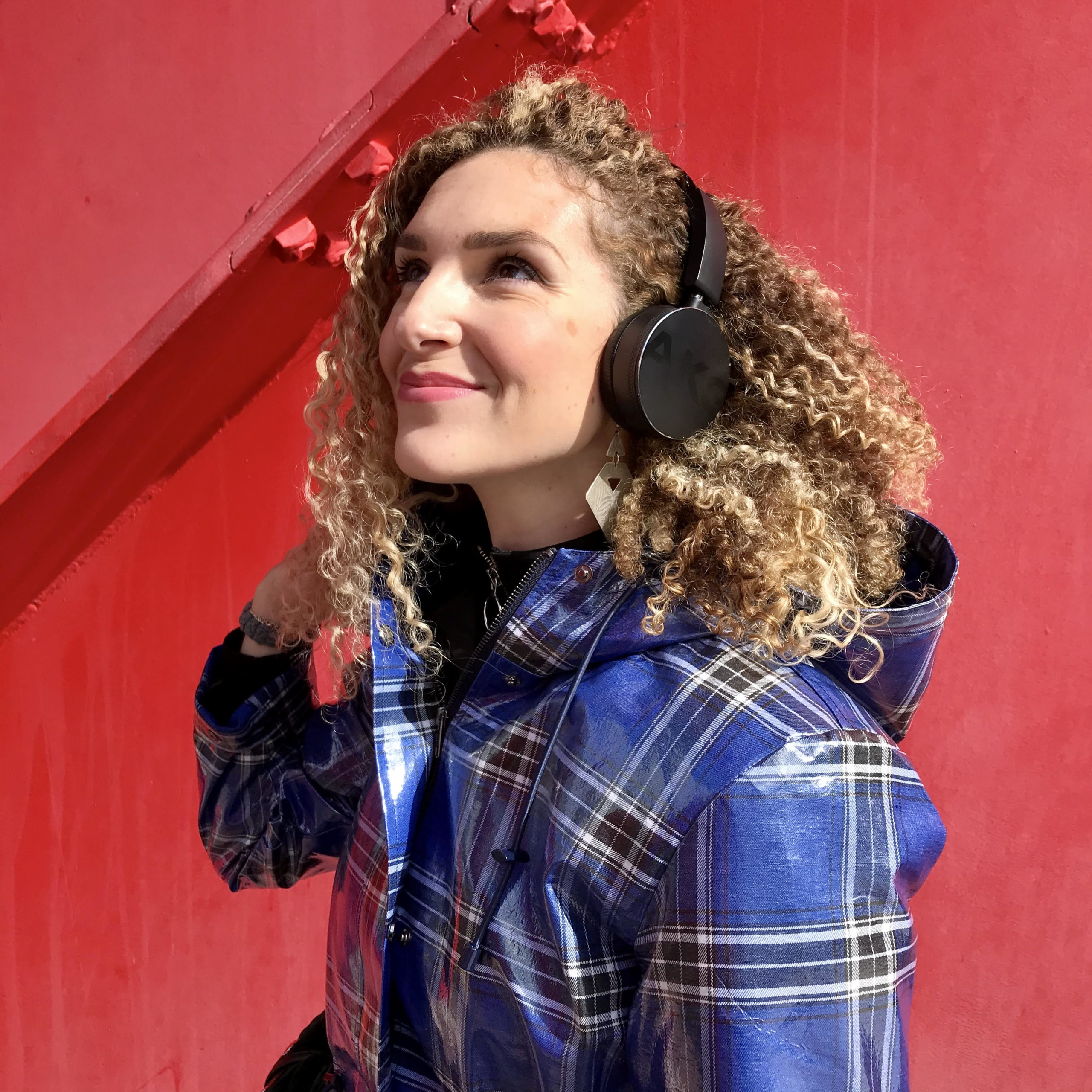 Mélomane en apesanteur.
#jamaissansmoncasque